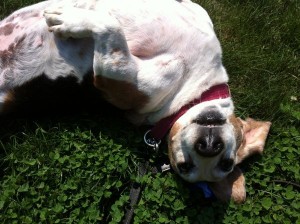 Ah September, sweet September.  School will be back in session soon, the kids will be out of your hair, the house will be quiet.  Are you ready?  Don't forget about poor Fido though!  The kids won't be home to let him out at lunchtime!  Don't despair!  We can help!
Our dog walking service will alleviate your stress and keep Fido happy and comfortable.  We will come and walk the dog when you're unavailable.  We provide services seven days a week but will tailor the schedule to suit your needs.  Whether you require just one visit per week or several days a week we can help.
This service is also perfect for those of you who have a new puppy and need help potty training or for older dogs who have problems holding it all day.
For more information visit the dog walking page on our website.