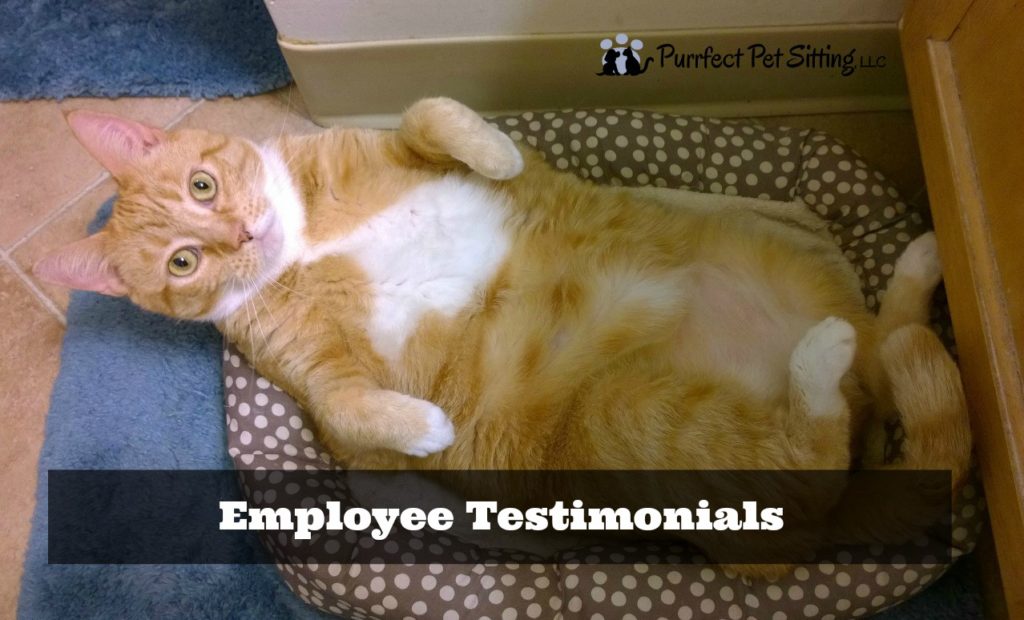 We have been in business since 2000 and have been blessed with some incredible employees who go above and beyond when it comes to caring for your pets.  Following are some employee testimonials:
~~~~~~~~~~~~~~~~~~~~~~~~~~~~~~~~~~~~~~~~~~~~~~~
"After having worked for Purrfect Pet Sitting for nearly 4 years, I can say without a doubt, I love my job!  The position is fun, flexible and challenging at times, but never a dull moment.
It is a pleasure and honor to take care of all the incredible pets each and every day.  Along the way, I've dealt with some tough situations but Wendy has never failed to provide guidance and support.
Because PPS has built a strong trustworthy reputation in our community, I am able to approach each sit and enter each home with pride knowing I represent such a wonderful company.
Wendy has a true infectious passion for her business, which I also share, and I'm grateful to be part of the Purrfect Pet Sitting team!"
~Karen (2012 – present)
~~~~~~~~~~~~~~~~~~~~~~~~~~~~~~~~~~~~~~~~~~~~~~~
"It has been an honor to work for Purrfect Pet Sitting. Wendy is organized, professional, supportive, and responsive. Her guidance has given me a strong foundation and confidence as a pet sitter. When there is a problem that needs to be addressed she is just a quick call or text away. It is such a joy to be able to do a job that focuses so much on the pets. I adore all animals and my clients pets quickly become part of an extended furry family. I am lucky to have amazing clients as well who are very generous and kind to me. It is a joy to work for Purrfect Pet Sitting and to be able to pile heaps of love on "my" babies every single day. I just can't imagine a better company to work for or a better job."
~Maeghan (2014 – present)
~~~~~~~~~~~~~~~~~~~~~~~~~~~~~~~~~~~~~~~~~~~~~~~
"I am a true animal lover and I can honestly say that I find this job very enjoying and rewarding.  It provides me with many wonderful opportunities to care for our clients furry family members, when they can't be there themselves.  I get paid to love and care for many animals who really appreciate me.  Purrfect Pet Sitting is a very well run company, so much attention for detail.  Every animal receives top notch care.  This is a great job!!!"
~Janet (2015 – 2016)
~~~~~~~~~~~~~~~~~~~~~~~~~~~~~~~~~~~~~~~~~~~~~~~
"I love using my skills and love for animals to provide such a needed and appreciated service. Wendy is very organized and runs a tight ship and because of that owners can have peace of mind knowing their pets are receiving the very best care.  As an employer, Wendy is respectful of me and my commitments to my family allowing me a schedule I can manage. She creates a beautiful calendar every year with photos of many of the pets we care for as well as a facebook page, website and excellent blog with very interesting article and insights. Purrfect Pet Sitting is top notch and I am proud to be part of the team! "
~Teri (2015 – 2016)
~~~~~~~~~~~~~~~~~~~~~~~~~~~~~~~~~~~~~~~~~~~~~~~
"Working for Purrfect Pet Sitting was as rewarding as it was enjoyable. Wendy is a true professional and also fun to work for! When training with her, I saw the amount of care and attention to detail she put into every sit, and I took pride in working for such a wonderful company that provided the absolute best care to every pet. I LOVED getting to see all my furry friends everyday, and my work schedule accommodated my school schedule so well! It was incredible to work with such amazing staff who are passionate about what they do and who were willing to lend a hand whenever I needed it. It's the perfect job!"
~Molly (2010-2013)
~~~~~~~~~~~~~~~~~~~~~~~~~~~~~~~~~~~~~~~~~~~~~~~
"I look back on my time working for Purrfect Pet Sitting fondly. Getting to meet and create bonds with a variety of furry friends with different quirks and personalities was my favorite part. Working with Wendy was another! I could tell from when I first met her at my interview that this was her passion and something she put a lot of time and care into, and it shows! Being a petsitter with PPS is more than a job; it's a series of rewarding experiences that I would recommend to anyone who has an aptitude for working with and caring for animals."
~Courtney (2010)
~~~~~~~~~~~~~~~~~~~~~~~~~~~~~~~~~~~~~~~~~~~~~~~
"I have only had the privilege of working with Purrfect Petsitting for a short time, but I love it! Coming in, I had no idea how much was involved in the entire operation. My job is the easy part. I get to play with, feed and walk pets. What could be better than that? The really impressive part is behind the scenes. Wendy has an incredibly detailed and organized system. Scheduling, notifying, communication with clients and employees and payroll. She flawlessly does it all. It is because of her professionalism and dedication that we, her employees, can meet the needs of all our furry friends in a loving and consistent manner. I feel fortunate to be doing this and am looking forward to my future with Purrfect Petsitting."
~Milla (2016)
~~~~~~~~~~~~~~~~~~~~~~~~~~~~~~~~~~~~~~~~~~~~~~~
"Purrfect Pet Sitting provides the "purrfect" part time job that is easy to fit into my schedule. Wendy is very flexible and accommodating to the days and times I am available. Wendy has high standards for her employees which in turn provides the client with the peace of mind that comes with knowing you have a professional trustworthy person in your home providing care, love and attention to your furry family member. I like that there are check ins after every visit to assure that we finished up safely.
Getting paid to spend time with animals in my free time is pretty awesome. Forming bonds with the animals has been my favorite part of the experience. For the most part, pet sitting is a stress free enjoyable time that provides an invaluable service. I would highly recommend this job to anyone who loves animals and is looking for a convenient well paying part time job."
~Jaime (2015-2016)
~~~~~~~~~~~~~~~~~~~~~~~~~~~~~~~~~~~~~~~~~~~~~~~
"As a previous employee of Purrfect Pet Sitting I always felt respected. Wendy makes sure that her employees are attentive to details and responsible, not only for caring for your pets, but also for caring for your home and property while you are away. I loved that Wendy and I would meet the client before caring for their pet so we could get introduced personally and I could learn straight from the Pet Owner how they wanted me to care for their pet. I love animals so, for me, it felt like a dream to be able to spend time with animals for my job!! Employees of Purrfect Pet Sitting are vetted and trustworthy and truly love caring for people's furry loved ones!"
~Rachel (2013 – 2014)
~~~~~~~~~~~~~~~~~~~~~~~~~~~~~~~~~~~~~~~~~~~~~~~
"I had worked in retail for many years before deciding that I wanted a change. I wanted a job that was fun, meaningful and where I didn't have to stay cooped up inside all day. I was so lucky to find Wendy and Purrfect Pet Sitting!! She was friendly and welcoming from the 1st time we met and it doesn't stop there, she was always a call or text away whenever I had any questions about any of the animals I was sitting for. She was always great about scheduling and taking time off if needed, everyone at Purrfect Pet Sitting was always happy to work together to make things run smoothly. Wendy was happy to take the time to show me the ropes, she is very clear about expectations to set each of her employees up for a fun and successful adventure. You really get to know each of the animals and their personalities and it feels like they are part of your family. Its not always just playing with puppies and kittens, there are messes and dog/cat hair on your clothes at the end of the day but it is so worth it. If I hadn't moved away I would still be working for PPS, really the best job I ever had and I still love to check in and see how all my 'babies' are doing on Facebook. "
~Sara (2011-2012)