Wendy Nigro, Owner
In my fifth grade yearbook we had to choose what we wanted to be when we grew up. I wanted to be a veterinarian. When I was growing up my father had a farm and I LOVED spending time tending to the animals. We had a little bit of everything – horses, cows, pigs, chickens, dogs and cats and I loved them all. I took riding lessons and just couldn't get enough of being around the horses. As I got older I decided that I couldn't deal with the blood and gore, nor the people who don't treat their furry friends well so I went to work for a bank. Several years later I had a much better job, but I still felt the longing to work with animals. A very good friend suggested pet sitting and the light bulb went on! After all, I was always the person everyone asked to watch their pets anyway!
Karen, Pet Sitter
A transplant from Colonie, Karen lives in West Sand Lake with her husband Eric.  She is the proud "mother" of 3 great cats aging from 2 years to a special needs kitty who is 18 years old! Within her adult life she have owned and taken care of numerous cats, dogs, a couple ferrets and even aquatic fish.  She's always been an animal lover whether domestic or wild. Having been the "mother" to so many different types of pets, she has had to learn to not only love the animals but also take care of their needs. Over the course of the years she has learned and mastered unique skills such as administering all types of oral medications, managing flea/tick issues as well as providing insulin shots and sub-cutaneous fluids. Karen simply loves animals and rest assured when in her company your pets will be given the same love and respect that they get while you are at home.
Maeghan, Pet Sitter
Maeghan has always had a love of pets and has always had them in her life. She did spend some time going to school to be a Vet Tech but realized part way thru that she wouldn't be able to manage the harder emotional parts of the job. She really loves pet sitting as it allows her to spend quality time caring for (mostly) healthy and happy animals. She gets to dote on and spoil them as if they were her own!

She and her husband share their home with two wonderful cat – Maverick and Callista. They also have three rabbits! Two of them are English Angora boys, Finley and Sebastian. The third is a new addition and she is a Lionhead named Freya. They are all properly spoiled! Maeghan can't imagine her life without her furbabies!

Maeghan brings many years of caring for her own and other peoples animals to her pet sitting career. She has various experience with both healthy and sick animals. Know that any animal in her care will be well loved and cared for while their owner is away.
Kara, Pet Sitter
Kara was born with an infinite love for animals. Throughout her life, she has mothered many different pets including fish, turtles, frogs, parakeets, bunnies, cats and dogs. Kara is owned by a sweet 8 year old Basset baby Jezabelle.  In her free time, she enjoys spending time with her family and friends, as well as enjoying movies. In warmer weather, she enjoys going horse back riding with her daughter and ritually attending Lebanon Valley Speedway. Currently she works as a preschool teacher by day, but has always wanted to fulfill her dream of with animals and would like to become a veterinarian assistant in the near future.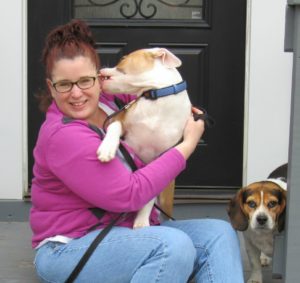 Becky, Pet Sitter
Becky has always had a love for animals. Growing up, two of her siblings were allergic so she didn't have pets. She would visit her friends' houses who had pets and wished she could have a dog, a cat, or even a hamster. But she had to wait until she was on her own to get a fur-friend.
Less than a month after she moved into her first apartment, I adopted a kitten from the Mohawk Hudson Humane Society. Since then, she has always had at least one four-legged family member in her home. When she got married, she and her husband had a cat-Magoo (hers) and Jetta (his). Magoo and Jetta still share their home, and she has added their beagle, Trigger, who they adopted at nine months, and is now six years old, and they rescued a pit bull puppy, Bullet, in September 2016. Since Bullet was a rescue, he has had some specific needs that needed to be addressed, but with a lot of love and hard work, Bullet is now a happy seven-month-old playful pup that is on the road to recovery.
She is the person that friends and neighbors ask to feed and walk their pets when they go away for a day or a week. They know she will take care of their pets the same way she treats her own-with love and attention, since she knows how difficult it is to leave a pet in the care of someone else.
During her free time, she likes to bake, read, and watch the cichlids swim around their 75-gallon tank.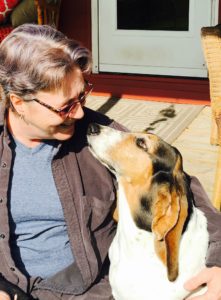 Laurie, Pet Sitter
Laurie can't remember a time in her life when she didn't have some kind of pet.  She has gone through hamsters, guinea pigs, howling beagle pups and have always had a cat or three!
She retired a couple of years ago after 30 years in County and State government and was looking forward to finally getting those unfinished projects done around the house and expanding the garden some. When the garden was done and the house was painted she realized that she wasn't a very good painter.
Finding herself watching the Food Network and wondering why she was gaining weight made her decide it was time for a part-time job.  She decided if she was going to go back to work it was going to be something she loved doing this time.
Laurie was a client of Purrfect Pet Sitting and was always very pleased with the way we cared for her pets when she went on vacation.  She is thrilled to get a chance to part of the Purrfect Pet Sitting team.
Laurie has a two cat household as of right now.  Frank is a reformed 21 pound feral who only comes out when the they are home. Carraho on the other hand rules the house at 7 lbs!
All employees have had a criminal background check done.