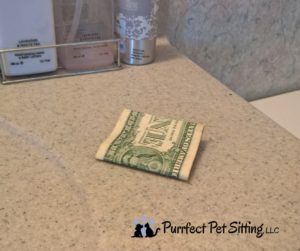 We completely get that handing your keys over to a complete stranger to care for your home and pets in your absence can be hard.  We always tell people to check our references, check our online reviews.  We are legit.
All of our employees undergo a criminal background check prior to being hired.
Despite doing that, we sometimes find ourselves being 'tested' by clients.
How do we find ourselves being tested?
Every once in a while we'll find cash left out in a conspicuous spot.
Is it a test or is it just coincidence?
Regardless, it doesn't matter.  In any event, the money wasn't left for us so we aren't about to take it.
We wouldn't risk our reputation for a few measly dollars!
We wouldn't risk our reputation for a LOT of dollars either!
Rest assured.  Whether you leave out $1 or $100, it will be in the same spot as where you left it.  Occasionally, if it's a lot of money we may put it somewhere safe and leave you a note on where we've put it for safekeeping.
Do you trust YOUR pet sitter to do the same?  If not, hire us!