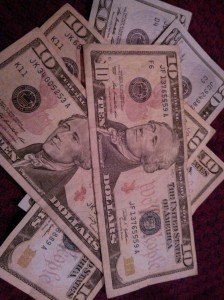 I am often asked whether you should tip your pet sitter.  Tips are definitely not required and/or expected but they are surely appreciated!
Whether you tip and how much you tip is entirely up to you.  It's whatever you are comfortable with and feel is appropriate.
Keep in mind a tip may not always be monetary.  I've gotten some pretty awesome non-cash tips over the years; such as:
Homemade pesto
Homemade whoopie pies
Homemade truffles
A note to harvest whatever was left in the garden at the end of the season while the client was gone
Homemade chocolate chip and snickerdoodle cookies
Movie passes
If you feel your pet sitter has gone above and beyond and you would like to tip them you can either leave them cash in an envelope with your normal payment, you can include in your payment or you can send it to us after the service has been performed and we will see that it gets to your sitter.  All tips received go 100% to the sitter that performed the service!