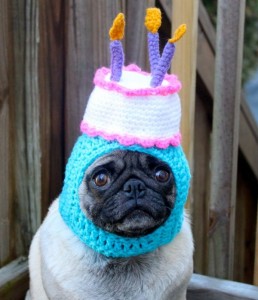 Thirteen years ago today Purrfect Pet Sitting was born (hatched?)!  That is 91 in dog years!  For the past thirteen years we have been providing pet sitting and dog walking services to the greatest clients in Southern Rensselaer County.  Oh the stories we could tell (and sometimes we do – see the "No Request Is Too Strange post")!
I'm proud to say we were the first professional pet sitting service in Rensselaer County.  I've seen many other services come and go, but we are here to stay.  I can't tell you how many people looked at me like I was insane when I told them the business I was starting.  "That'll never fly" I heard.  "There won't be enough people that want to use your service" I heard.  Well, here we are, 13 years later, with four fantastic employees!  Can I say "I told you so" now?
We want to thank you from the bottom of our hearts for entrusting your pet and home care to us.  Without you, we wouldn't be able to do something we love!
Let's hear it for another 13 years!  Tell your friends, tell your neighbors!  After all, we are your boarding alternative.
If you would like to purchase a hat for your dog like the one in the photo, visit this Etsy page.