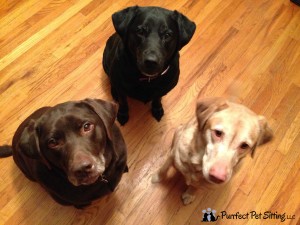 The American Kennel Club recently announced their list of most popular dog breeds for 2016.  It made me curious to see how our clients stacked up against that list.
You can read the American Kennel Club's full story here.
It should be no surprise that the Labrador Retriever took top honors for the 26th year in a row!
The American Kennel Club's most popular breeds for 2016 are:
 Labrador Retriever
German Shepherd
Golden Retriever
Bulldog
Beagle
French Bulldog
Poodle
Rotweiller
Yorkshire Terrier
Boxer
So what are the most popular breeds among Purrfect Pet Sitting's clients?
LABRADOR RETRIEVER (almost two to one over Goldens!)
Golden Retriever
Poodle
Pug
Boxer
Chihuahua
Beagle
German Shepherd
Yorkshire Terrier
Pitbull
Honorable mention goes to Pomeranians and Cairn Terriers who were next on the list.
I don't know why, but our list kind of surprised me.  Did it surprise you?