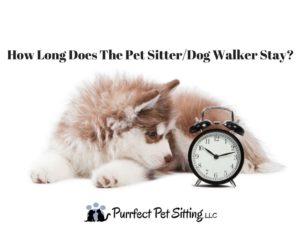 By far, one of the most frequently asked questions we receive is how long does the pet sitter/dog walker stay?  We offer two options for visits.
Our most popular visit is twenty (20) minutes long.
That means, from the time we arrive to the time we leave is twenty minutes.  That includes time for leashing up your dogs, taking them for a walk or playing with them in your fenced yard, giving them treats, feeding, scooping litterboxes and writing our daily note.
This option is the most popular for both vacationers and our daily dog walking clients.
Our other option is a fifty (50) minute visit.
This option gives your pet(s) an extended visit with more time for a longer walk, play time or even just belly rubs.  This option is great for households with multi-pets as it gives us more time to give everyone some attention without being rushed.
Many vacation clients choose to schedule a longer visit in the morning and evening and a shorter visit for a midday potty break.
We charge by time, not by pet, so if we feel we can't accomplish everything your pets need in the twenty minute visit we will strongly suggest a longer visit.
Whichever you choose you can rest assured that your pets receive the best quality care and you can vacation worry free!