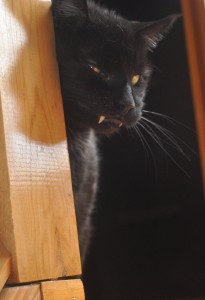 Halloween has always been my favorite holiday.  I used to go all out and get dressed up every year; still do sometimes.  It can be a stressful or sometimes downright scary day for your pets though.  Please remember the following tips for keeping your furry friends safe this All Hallows Eve.
Keep Your Pet Indoors – All the little goblins running around is enough to scare anyone but imagine it from a pets perspective looking at all the strange people in costume!  The safest place for them is in their nice warm bed, inside.  Vicious pranksters have been known to do some not so nice things to pets on Halloween.  It's easily preventable by keeping them safely indoors.
Keep Candy Out of Reach – Candy is not for pets.  Chocolate, especially dark chocolate is toxic and can be lethal to your pet.  Symptoms of chocolate poisoning may include vomiting, diarrhea, increased heart rate, and seizures.  Be diligent that any wrappers also end up in the trash and don't cause an obstruction in your pets digestive system.
Keep Pets Away From The Door – Your door will be constantly opening and closing when the trick or treaters come.  By keeping your pet crated or confined to a room you'll avoid the chance of them darting out the door.  Do you really want to be searching for your pet on Halloween?
Keep Cats In A Few Days Before Halloween – It's a good idea to keep cats, especially black ones, inside for the few days leading up to Halloween to avoid pranksters and other cruelty-related incidents.
Flammables – Make sure any candles or jack-o-lanterns are kept away and out of reach of your pets.
Costumes – If you do dress your pet up make sure the costume isn't prohibitive to them.  Make sure it's not too tight and restrictive or a choking hazard if they happen to chew something off.  If you go out at night consider a reflective collar or other gear.
If You're Away – If you're away and you have the pet sitter or dog walker coming to visit your pets please leave outside lights off or leave us some candy to hand out to any little goblins that come to the door trick or treating!
With some common sense and a little caution, Halloween can be a fun time for both humans and pets alike.  If you suspect any acts of animal cruelty please contact your local animal shelter or animal authorities.
Happy Halloween!