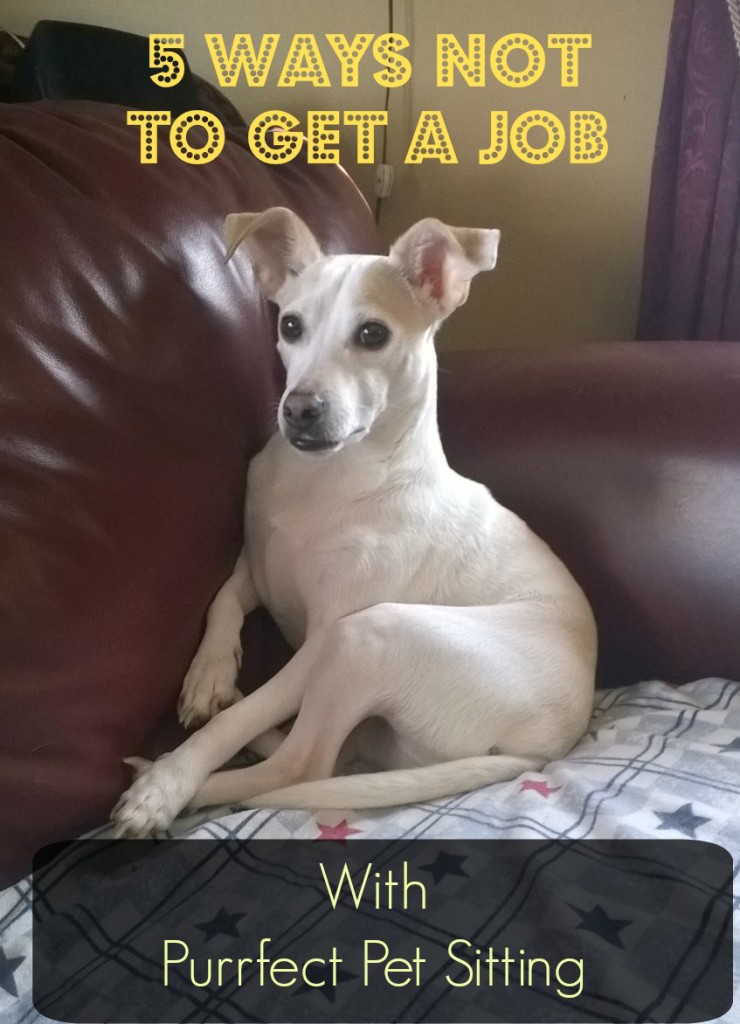 Finding good employees is a challenge for any business.  How many times have you heard someone say "it's so hard to find good help"?  Pet Sitting is no exception, but I think it's even more challenging to find pet sitting help.  Why?  Well, the hours for one.  Pet sitters start as early as 6am and go as late as 9pm.  We work nights, weekends, holidays, 365 days a year.  It's not always consistent; it tends to follow the school schedule so the schedule can be quite sporadic.
That being said, I've been VERY fortunate to find some excellent employees but for every one employee I've hired I've waded through hundreds of ridiculous emails and applications.  I'm not kidding when I say ridiculous.  It can literally take several months of searching and interviewing to find just the right person.
So, how do I weed out the nincompoops?  These are some things I look for during their initial contact:
First, if you don't follow the instructions listed in the help wanted ad on how to apply you'll automatically be disqualified.  If you can't follow those simple instructions, you're not detail oriented enough to follow client instructions.
If your initial contact email is sent in text shorthand (i luv pets r u hiring?) you're disqualified.  This is a JOB you're applying for, not texting your buddy.  First impressions count.
If you don't use proper grammar and punctuation your email will be deleted.  Again, you're applying for a job and first impressions count!  I can't tell you how many emails that I get which are in all lower case with no punctuation.  It makes me NUTS!
If you don't live in the geographic areas required please don't apply.  Someone who lives in Schenectady is of no use to a client that lives in Averill Park.
If you make it through the first round of tests and actually get selected for an interview show up on time!  Punctuality is incredibly important in this job.
Applicants who make it through the initial interview that show potential are asked to come back for a second interview which entails going with one of us to a few pet sits.  That way they can see exactly what the job involves and we can see how they interact with the pets and how the pets react to them.  If they make it through the second interview they are usually offered the job, but not always.  I've had a few that weren't.
I will never forget one woman I interviewed.  I always tell the applicant my general description and what I drive so they know who to look for (I usually interview people at Starbuck's).  She responded and gave me her description and said she'd be driving a whatever brand car, "filled with stuffed sheep".  I thought that was odd and maybe it was an auto-correct on her phone.  Wouldn't you know, when she arrived for the interview she was indeed driving a whatever brand car covered in dents, with a broken headlight and it was filled with stuffed sheep.  The entire car, except for the driver's seat had stuffed animal sheep occupying it.  I always like to ask applicants to describe themselves using only three words.  I knew the interview was over when her first word was "squirrely".  She kept rambling about how her mind raced like a squirrel.  I couldn't get out of there fast enough!!!
What should an applicant do to have a better chance of getting a job with Purrfect Pet Sitting?
Don't do the things listed above!
Arrive on time for the interview, dressed appropriately.
Respond in a timely manner when you receive an email or a phone call.
Do some research before the interview so you know a little about our business and company.
Prepare some questions in advance (see number 4).
With all that being said we are looking for someone for part time vacation pet sitting who lives in the Wynantskill, Poestenkill or Troy (South or East) area.  Do you know someone who would make a great pet sitter that will pass our tests?  Have them visit the employment page on our website!  Be sure to tell them to follow instructions!