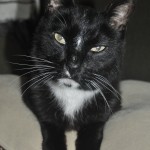 In a follow up to "5 Reasons Purrfect Pet Sitting Wouldn't Take You As A Client" I'd like to give you ten signs that you would be an ideal client.
You would make an ideal client for pet sitting or dog walking if:  (I feel like this is a Jeff Foxworthy "You might be a redneck if" skit)
Your pets eat better than you do.
Your parents refer to your dog as their "grand-dog".
Your pets have their own Christmas stocking hanging on the mantle (and it is overflowing with gifts).
You won't make your vacation reservations until you're SURE the pet sitter is available.
You call home to talk to your pet through the answering machine.
You celebrate your pet's birthday.
You sign your pet's names on holiday cards.
You know your veterinarian's phone number by heart.
You have more pictures of your pet on your desk at work than you do of your family.
Your pet has their own Halloween costume.
So, are YOU an ideal client or do you know someone who would be?  What are you waiting for?  Contact us to sign up for service!