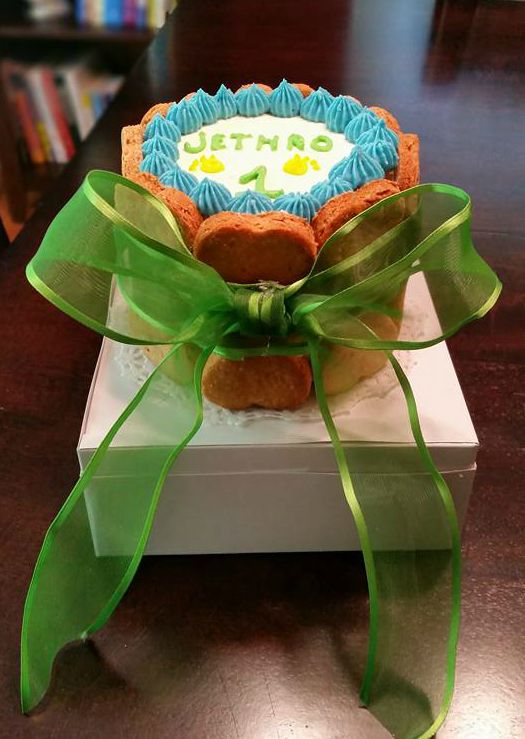 Jaime of Mugzy's Barkery is the newest member of the Purrfect Pet Sitting team.  When she's not pet sitting she is busy running Mugzy's Barkery.  Mugzy's Barkery specializes in creating homemade all natural and organic dog treats and custom cakes right here in New York's Capital Region.  Jaime recently took a few minutes to answer some questions for us.
1.  Do you have any formal training in baking?
While I do not have any formal training or culinary background I
have always been in the kitchen from the time I was a little girl.  I
have baked with my mother and grandmother as a child and into
adulthood.  It has always been a hobby and a passion of mine. Because I
am an avid baker and eat organic myself, it came natural to bake
treats for my dog, Mugzy.  At one point my dog trainer suggested I sell
them and from there Mugzy's Barkery was born!  In addition to Mugzy's
Barkery organic dog treats, I also make and sell cakes for humans too!
2.)  What is the most popular treat you sell?
The most popular treat is the "PB Cookie Cup".  It is a peanut
butter cookie, filled with peanut butter with carob on top.  All of my
ingredients are all natural and organic human grade food.  There is no
wheat, corn or soy in any of my products and no added refined sugar.
3.)  What is the benefit of giving organic treats versus something from the grocery store?
There are many benefits to giving organic treats to your dog
versus what you might buy in a store.   Organic food has been found to
have higher levels of nutrients and antioxidants than conventionally
farmed foods.  In addition, organics do not contain the harmful
chemical pesticides that conventional food has in it.  Studies have
linked pesticide exposure to various health conditions such as cancer
and neurological damage.  By choosing organics you are lowering the
amount of pesticides in the body significantly resulting in better
health.  Organic food production is also better for the environment and
kinder to animals generally.  Another important reason to give your dog
treats from Mugzy's Barkery is that they are not only very healthy,
they are safe too.  The reason why I started this business was because
I did not trust what was in the stores and was concerned for the
safety of my pup after all of the scary stories coming out about our
beloved pets becoming sick or dying from toxic ingredients in
commercial and forgein pet foods.  Mugzy's Barkery treats are all made
by hand by me out of the highest quality ingredients in small batches.
 You can enjoy the peace of mind that comes with knowing you are giving
your pups the very best!
4.)  Have you ever had any flops?  Anything even Mugzy wouldn't eat?
My Mugzy has been a lucky pup because he is not only the
inspiration behind Mugzy's Barkery but he also gets to be my taste
tester!  I have been fortunate to have found and developed flavors of
treats that he loves and have never made anything he wouldn't eat.
5.)  Where can people find your products?
You can find Mugzy's Barkery treats every Saturday at the Troy
Farmers Market from 9a-2p on River St., every other Sunday at the Spa
City Farmers Market from 10a-3p in Saratoga at the Lincoln Baths,
Fauna and Frill Pet Salon in Troy, Head to Tail in Schenectady,
Saratoga Five Points Market and Deli  and sometimes in Honest Weight
Food Co-Op. I am working on getting in to more stores now and will
hopefully be expanding by the end of this summer!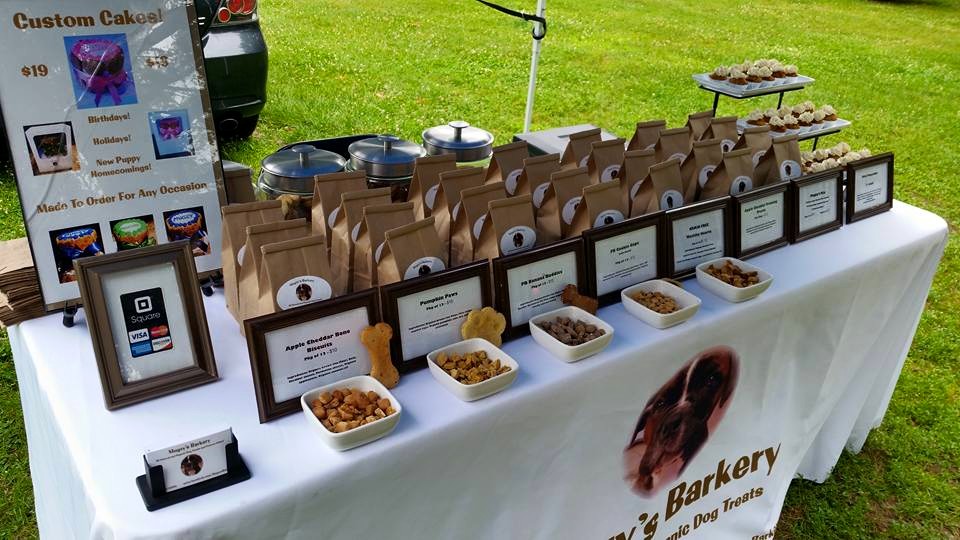 You can check out my facebook page at www.facebook.com/MugzysBarkery
We are giving away TWO bags of Mugzy's Mix treats (one bag to two winners) which contain a sampling of what Mugzy's Barkery offers. Each bag contains Apple Cheddar Bone Biscuits, Peanut Butter Banana Buddies, Peanut Butter Cookie Cups and Pumpkin Paws.
To enter, please leave a comment on this blog and tell us what flavor your dog would like the most.  If there is a flavor you think your dog would like better and you'd like to see Jaime try, tell us that!
Contest open to US residents only.  If you are local, we can deliver the treats to you.  If you're not, we can mail them.  Winner will be selected at random on July 28, 2015.