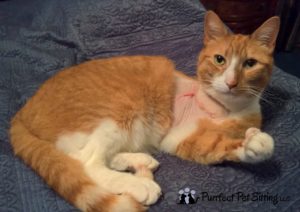 If you've been following Purrfect Pet Sitting for any length of time you no doubt are familiar with our cat named Bob. 
If you're not familiar with Bob you can read all about him and how he came into our lives here.
Back in September Bob started limping and not using his right front paw.  Since Bob is Bob, we thought for sure he had done something crazy and it would just go away.  After a month or so of no improvement we brought him to the vet.  After an exam and x-rays the diagnosis was that he had torn a ligament in his pinky toe and that it would heal on its own in a few months.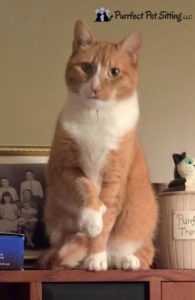 A few months went by with no improvement.
We took him back to the vet again and got the same diagnosis.  Our vet said we could give it more time to heal or we could amputate the toe.
He felt amputating the toe would solve Bob's problem.
We waited a couple of more weeks and then made the decision to amputate the toe.  We were very nervous, but our vet was confident that it would be the end of the issue.
The morning of the surgery our vet called and said he had Bob under anesthesia and while he was feeling his foot he felt a small lump between the toes.
He thought it may be cancer.
My heart sank.
We went ahead with the toe removal and the lump was also removed and sent out for biopsy.  Bob was miserable for two weeks while he hobbled around on three legs with a satellite dish on his head.
The following week the vet called with the results.
Bob had a malignant soft tissue sarcoma.  Bob had cancer.
The good news was that it was a type of cancer that had only a 10% rate of metastasizing.
We all hoped that the vet successfully removed enough of the tumor that it wouldn't come back and Bob could live a normal life.  That was short lived.  Within a month or two we could see his paw was getting bigger again.  The tumor was back and it was VERY aggressive.
We had two options.  Amputate the leg or euthanasia.
We took Bob to Dr. Besancon, a board certified surgeon, at Upstate Veterinary Specialties in Latham for a second opinion.  Our worst fears were confirmed and he gave us an estimate for amputation.
I can't tell you how many people told me I was nuts for considering spending several thousand dollars on surgery for my CAT.  Especially when our vet would do it for almost half that. I was told I should just put him to sleep.
Bob is only 8 years old.  If he were older or not in good health my decision may have been different.  We factored a lot into our decision.
We decided to have the board certified surgeon do it.
Surgery went very smoothly.  The leg was sent out to pathology and a week later we got the call.
NO MORE CANCER was found!
This time around Bob didn't have to wear the satellite dish, instead he wore a baby onesie with one arm sewed up for two weeks.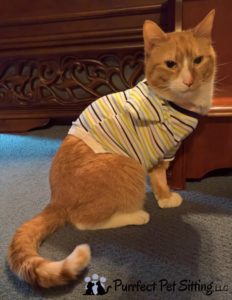 Once the stitches came out he got the onesie taken off and he was free to do whatever he wanted.
We are now two months post-op and Bob continues to improve every day.
We have now started calling him Hobble Bobble.
Would I do it again?  Yes.  I would.  Having a surgeon do it was worth the extra money.  Bob was worth every penny.  We hope to have many, many more years with him!