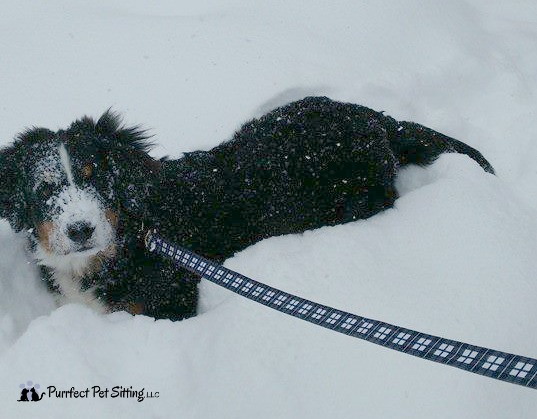 We have a lot of dogs we visit on a daily basis while their human guardians are at work.  We previously discussed whether we'd still pet sit during a blizzard.  We seem to be getting nailed pretty regularly this winter with some heavy snows.  During these storms the majority of our daily dog walking clients decide to work from home or use a vacation day and they notify us that we don't have to come to walk the dogs and we are incredibly grateful. What happens if the person can't work from home or doesn't have the luxury of taking a vacation day?
Unless there is a Government issued state of emergency prohibiting our travel WE WILL NOT CANCEL ON YOU.
Obviously our safety comes first.  Our visits may be cut a little shorter due to the extreme weather or they may be a little earlier or a little later than usual, but your dogs will be taken out to relieve themselves so you don't have to worry. It's all part of a hiring a PROFESSIONAL service.  You have complete peace of mind, which is priceless isn't it?